Ajou University is leaping forward in a bigger world beyond the boundaries between disciplines!
The key to the 21st-century research is research on technological convergence. Gyeonggi Province is building Gwanggyo Techno Valley, a research complex for technological convergence, to create new growth engine in the Metropolitan area and Ajou University is actively participating in the project.
Ajou University was named the only project team in the molecular science technology field of the technological convergence team in the first-stage BK21 project the Korean government initiated in 1991 in order to cultivate world-class graduate schools and outstanding research professionals. Its devotion to research on technological convergence has achieved remarkable results.
The competitive power of Ajou University lies in the fact that the IT, BT, and NT research facilities are all housed in the same campus. With its competitiveness in the IT field as th foundation of the technological convergence industry, Ajou University is pushing ahead with its research on technological convergence by teaming up with Ajou University Hospital that is carrying out research on the latest BT and NT fields.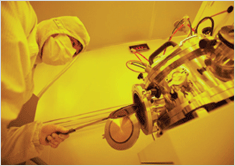 Ajou University is making every effort to boost research activities by its faculty by supporting interdisciplinary research groups organized by faculty members in two or more major areas for the promotion of research on technological convergence. As part of its effort, the university is joining major research centers sponsored by Gyeonggi Province, including the NANO fab centers already constructed or being under construction in Kwanggyo Techno Valley?and biotechnology centers near the university. Such joint R&D projects are expected to increase in the future and Ajou University plays a critical role in them.
As a university focusing on science and engineering, Ajou University completed the construction of the medical school and the university hospital vital to industrial-academic cooperation in the medical industry field, an important area in the BT and NT industries, the core technological convergence industry in the future.
With the foundation of the School of Information Technology for the first time in Korea, Ajou University is gaining a headstart in the technological convergence industry and strengthening its competitiveness in the digital content area.