Inspired by human fingers, researchers develop a millimeter-scale, multifunctional soft gripper capable of bidirectional sensing and heavy lifting
Devices that allow firm grasping of soft tissues without damaging them are essential for robotic handling of living organisms. However, to mimic human fingers effectively, they need to be equipped with bidirectional sensing and high payload capacity. Using a shape memory material, researchers from Korea have now developed a miniature soft gripper that meets these requirements, with high sensitivity towards mechanical and thermal stimuli, opening doors to wide applications in biomedical engineering.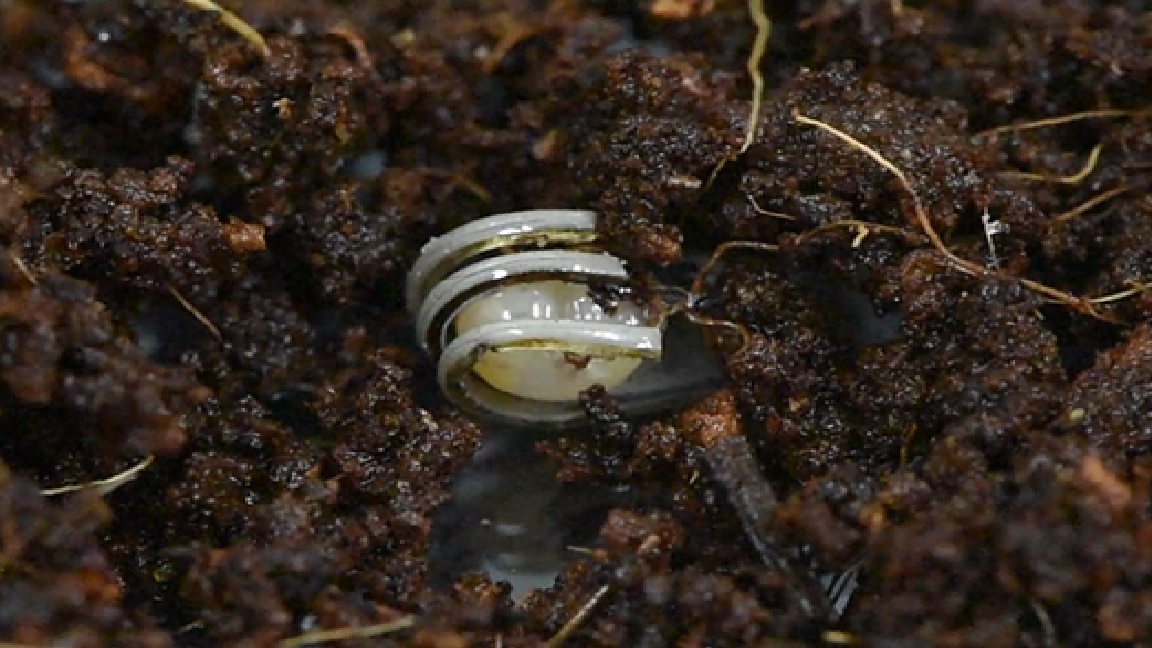 Shaped like the human hand, a new, miniature soft gripper device developed by researchers in Korea can lift heavy objects and grasp living organisms at the microscale.
Photo courtesy: Seungyong Han from Ajou University
Mimicking the human hand is an important frontier in human-robot interaction research. Artificial soft grippers—hand-like sensing devices for gentle manipulation of soft objects—have found applications in several areas, including drug delivery, noninvasive biopsy, and shape detection. However, these devices are often bulky, lack multiple functionalities and cannot handle heavy objects. Moreover, they cannot interact bidirectionally, i.e., sense and respond to the object.
To address this issue, researchers from Korea have now developed a millimeter-sized, multifunctional, lightweight soft gripper with five fingers that not only shows bidirectional interaction with organisms but can do so for both light and heavy organisms down to microscales. Their study, published in Science Robotics, demonstrates the utility of this miniature device—fashioned using a shape memory polymer —in handling soft, delicate tissues typical of living organisms. Prof. Seungyong Han from Ajou University, Korea, who led this study, explains, "The human hand has five fingers, which together enable delicate control and also act as important sensory organs. We wanted to develop a hand-like soft gripper with fingers to mimic the human hand and bridge the divide between humans and robots."
The soft gripper developed by Prof. Han and his team used silver nanowires that enabled mechanical control as well as thermal stimulation and monitoring of each finger. Additionally, a crack-based strain sensor integrated into the gripper offered high sensitivity to mechanical stimuli.
They tested their device using snail eggs that are only 3 mm in size and extremely fragile. "Our gripper could not only handle the snail eggs but also provided warmth to promote hatching and even monitored the heart rate of the newborn snails," comments Prof. Han, excited. "This confirmed that our miniaturized gripper could handle delicate biological tissues. Nevertheless, we also tested the device using other objects, such as metal washers, polystyrene balls, rigid caps, and salmon eggs," he adds.
This study—which represents cross-functional efforts across mechanical, electrical, material, and biomedical engineering—could have far-reaching applications in robotics and medicine for patient monitoring and treatment. "Our results demonstrate the potential of widespread utilities of soft gripper, especially in the development of conditional or closed-loop interfacing with microscale tissues and organisms," speculates an optimistic Prof. Han.
Some exciting consequences to look forward to!
Reference
Authors:

Yeonwook Roh1, Minho Kim1, Sang Min Won2, Daseul Lim1, Insic Hong1, Seunggon Lee1, Taewi Kim1, Changhwan Kim1, Doohoe Lee1, Sunghoon Im1, Gunhee Lee3, Dongjin Kim1, Dongwook Shin1, Dohyeon Gong1, Baekgyeom Kim1, Seongyeon Kim1, Sungyeong Kim1, Hyun Kuk Kim4, Bon-Kwon Koo5, Sungchul Seo6, Je-Sung Koh1, Daeshik Kang1, Seungyong Han1

Title of original paper:

Vital signal sensing and manipulation of a microscale organ with a multifunctional soft gripper

Journal:

Science Robotics

DOI:

10.1126/scirobotics.abi6774

Affiliations:

1Department of Mechanical Engineering, Ajou University, Multiscale Bio-inspired Technology Lab, Suwon 16499, Republic of Korea.

2Department of Electrical and Computer Engineering, Sungkyunkwan University, Suwon 16419, Republic of Korea.

3Department of Environment Machinery, Korea Institute of Machinery and Materials, Daejeon 34103, Republic of Korea.

4Department of Internal Medicine and Car- diovascular Center, Chosun University Hospital, University of Chosun College of Medicine, Gwangju 61453, Republic of Korea.

5Department of Internal Medicine and Cardiovascular Center, Seoul National University Hospital, Seoul 03080, Republic of Korea.

6Department of Environmental Health and Safety, EulJi University, Seoul 11759, Republic of Korea.
*Corresponding author's email: sy84han@ajou.ac.kr
About Ajou University
Founded in 1973, Ajou University has quickly grown to become one of the top universities in the Republic of Korea. With over 15,000 students and 50 research centers in diverse fields, Ajou University partakes in the largest national research and graduate education project funded by the Korean Ministry of Education. In line with its recently reformed vision, Ajou University's goal is to change society by connecting minds and carrying out high-impact research to improve the welfare of people in and outside Korea.
Website: https://www.ajou.ac.kr/en/index.do
About the author
Seungyong Han is currently an associate professor in the Mechanical Engineering department at Ajou University, Republic of Korea. He received his B.S. degree in Mechanical Engineering from Ajou University in 2010, and his combined M.S./Ph.D. degree from KAIST, Republic of Korea, in 2014. Before joining Ajou University, he worked as a post-doc at Seoul National University (2014-2015) and University of Illinois at Urbana-Champaign (2015-2017). His research has been concentrated on various nanomaterials and its application to flexible/stretchable biomedical devices.