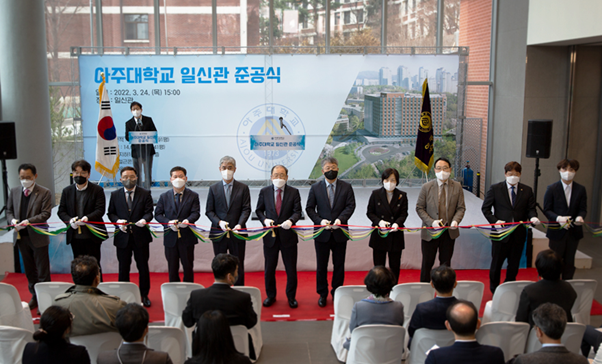 Ajou University hosted a completion ceremony for its new Ilshin Hall—a dormitory designed to accommodate up to 810 students in 368 rooms.
The event was attended by officials from Daewoo Educational Foundation, Ajou University, and Ajou University Hospital. In addition to Daewoo Educational Foundation Chairman Choo Ho-suk and Ajou University President Choi Kee-choo, Daewoo Educational Foundation Standing Director Kim Sun-yong, Ajou University Medical Center President Park Hae-shim, President of the Professorate Park Man-gyu, President of the General Students' Council Kim Hyung-woo, Dormitory Director Kim Dong-seok and other faculty members and key officials attended. Kim Seon-jae, Mayor of Yeongtong-gu, President of the Ajou University Alumni Association Choi Joong-won, and officials from the construction and design companies were also present.
The completion ceremony began with a construction progress report on Ilshin Hall, the Ajou University President's commemorative speech, and a ribbon-cutting ceremony.
In his commemorative speech, President Choi said, "Despite the tiring and difficult challenges posed by COVID-19 over the past two years, Ajou University continued to prepare for the future of its students, as represented by Ilshin Hall and Yulgok Hall Innovation Sharing Lounge, and we can see such efforts bearing fruit today." He added, "We hope Ilshin Hall will serve as a venue where students returning to campus can go beyond departmental boundaries to communicate and work together."
Ilshin Hall has a total floor space of 4,441 pyeong (around 14,680 m2), one basement level and 11 above-ground floors. It is equipped with community facilities, a multi-purpose hall, a lounge, a convenience store, and a coffee shop. With its completion, the school can now accommodate a total of 3,450 students in seven dormitory buildings.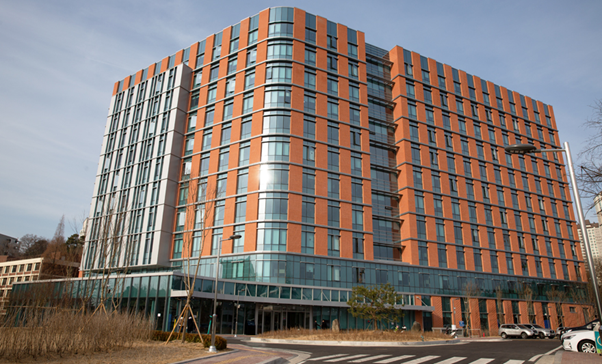 *Top photo: Ribbon cutting ceremony at the Ilshin Hall Completion Ceremony
Bottom photo: Exterior of Ilshin Hall