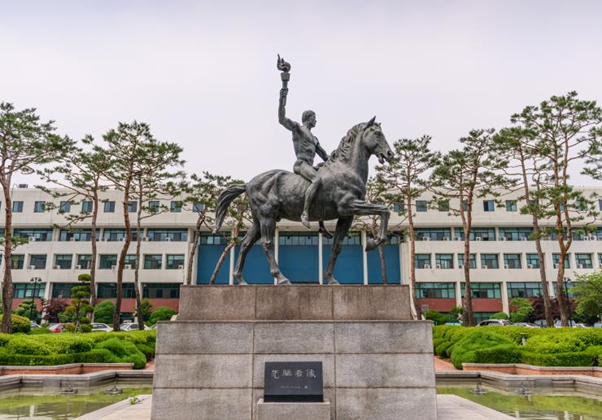 Ajou University gained the highest grade in the 2021 annual evaluation of the BRIDGE+ (Beyond Research Innovation & Development for Good Enterprises) Project hosted by the Ministry of Education and the National Research Foundation of Korea. Of the 24 universities nationwide taking part in this program, only Ajou University and three others received an A grade.
The BRIDGE+ Project provides comprehensive support for activities enabling the practical use of intellectual property, covering its entire life cycle from patent creation to technology transfer and commercialization. It aims to expand the foundation for creating new national industries and revitalize the social contribution of universities through advancement of the practical use of creative assets within universities. The total project period is from 2018 to 2023.
Through this project, participating universities strive to expand the practical use of convergence creative assets, promote the practical use of demand-based creative assets, strengthen the functions of organizations dedicated to technology transfer and commercialization, establish the foundation for a virtuous cycle for the practical use of creative assets, and engage in tasks to upgrade creative assets, among others.
"It is very meaningful that our university's support for pioneering research and technology commercialization and its outcomes have been recognized externally through acquisition of Grade A in the annual evaluation," said Kim Sang-in, Head of the University-Industry Cooperation Foundation. He added, "We are committed to accelerating the technology commercialization process through Ajou University's competitive edge."
Ajou University has consistently progressed well in commercializing its technology, seeing KRW 5.21 billion in technology transfer revenue in 2021, continuing its upward trend for the sixth consecutive year. This amount of revenue places the school among the top 5 universities in the country. In 2020, it ranked in the top 7 in Korea with KRW 3.35 billion in technology transfer revenue. Such outcomes are due to an efficient platform to support concrete and practical industry-university cooperation and technology commercialization.
Technology commercialization refers to the monetization of results obtained through research activities by university researchers through technology transfers or start-ups. When it is successful, technology commercialization can maximize the utilization of research outcomes and contribute to the enhancement of corporate and national competitiveness and job creation.
# Read articles from "Ajou Insight"—Ajou University's seasonal newsletter
▶"We will achieve our dream of becoming the world's top 100 business at Ajou", An interview with two CEO Ajou professors
▶Ajou University's Top 7 Commercialized Technologies – Reaching beyond the boundaries of a university!