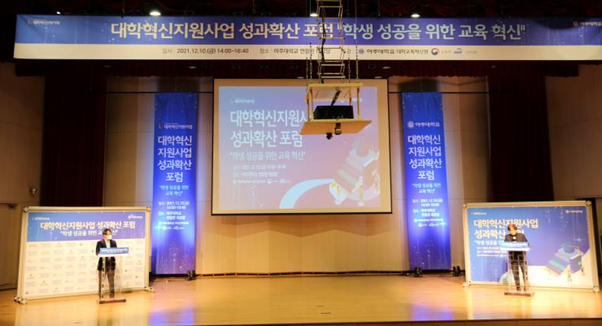 Ajou University has hosted a forum on the theme of student success. Internal experts from the university were joined by external experts in a hybrid format to deliver presentations and share cases of innovation in education and results.
The "Forum to Disseminate Achievements of the University Innovation Support Program – Education Innovation for Student Success" was held at Ajou's Yeonam Hall on December 10, 2021, and broadcast live via Ajou University Center for University Education Innovation's YouTube channel. The forum consisted of two sessions and began with an opening address by Chang Woo-jin, Director of the Center for University Education Innovation, and encouraging words by Ajou University's President Park Hyungju.
The first session commenced with a keynote lecture by Bae Sang-hoon, Sungkyunkwan University Dean of Student Affairs and Chief of Student Success Center, and was entitled, "Vision for Student Success and Its Implementation: Achievements of the Past Three Years and Future Challenges." Dean Bae emphasized that education, talented human resources, and student success were the core mission and zeitgeist of universities. He introduced the Student Success Center launched by Sungkyunkwan University and delivered a presentation on the achievements of various projects carried out by the Center and the challenges that lay ahead.
This was followed by a presentation by Professor Choi Jung-hee of Dankook University's Education Center for Academic Performance Evaluation on the theme, "Application and Achievements of CQI (Continuous Quality Improvement) for Ability-centered University Education," in which she elaborated on such innovation using the keyword "skills." In other words, universities need to become more competitive by ensuring the education they offer reflects their capacities, as well as those of their professors and students. Professor Choi introduced the application, and achievements of a system using feedback to connect professors and learning developed to continuously improve university lectures and the CQI system.
The second session was a presentation on the attempts and achievements of Ajou University to innovate education. Ajou University Center for Teaching and Learning Director Shin Jong-ho delivered a presentation on "Data Utilizing Education and Support System Assisting Student Success in Learning."
Director Shin provided information on "ATLAS" (the Ajou Teaching & Learning Analytics System), a data utilizing teaching and learning support system developed and adopted by Ajou University in 2014. The school has since analyzed data on learners and learning environments and supported the optimization of learning programs and environments. Director Shin also introduced "PASS" (Pathway to Ajou Student Success) which offers data utilizing curricular and extracurricular learning pathways tailored to the attributes students need.
In addition, the session offered information on the AI-based adaptive learning platform recently developed and researched by Ajou University, known as "ALEKS." The Aju University has gone on to develop this global platform further to support learning designed for individual students.
"There is a meaningful correlation between lessons utilizing the AI platform and academic achievement," said Director Shin. "Subjects that facilitate greater interaction in lessons using this system had a higher correlation index with academic achievement."
He added that thorough preparation and implementation by instructors and practical support from and the establishment of goals and vision on the utilization of AI by the university, as well as cooperation between the university and its departments, among other things, were vital to tailoring the speed and level of education for each student and to expand interaction in a course designed around individualized learning.
This was followed by a lecture entitled, "A Model for High-intensity Interaction-centered General Education and Cases of Its Operation[KHTC6]" by Professor Ahn Ji-youn from Dasan University College, and a presentation by Han Gwang-hee, a student in the Department of Materials Science and Engineering, on participating in the University Innovation Support Program.