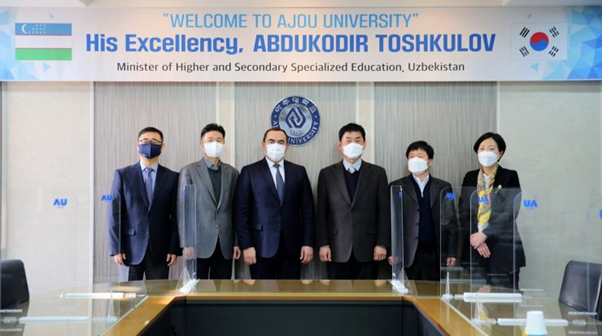 The Minister of Higher and Secondary Specialized Education of Uzbekistan visited Ajou University and discussed potential areas for cooperation in education.
On December 16, 2021, a delegation headed by Uzbekistan's Minister of Higher and Secondary Specialized Education, Abdukodir Toshkulov, visited the Ajou University campus and met with President Park Hyung-ju and the university's key executives. The two sides discussed cooperation in education, including the development of human resources, and the search for new areas of cooperation, such as energy. The Minister also met with Uzbekistan students studying at the University.
This visit was arranged in relation to the official three-day state visit from December 16 by Uzbekistan President Shavkat Mirziyoyev on invitation from Korean President Moon Jae-in. Minister Toshkulov will accompany the President during his stay in Korea.
In February this year, the University signed an agreement with the Uzbekistan government and worked closely to pursue cooperation in the field of higher education. Recently, the Uzbekistan government has made many efforts to advance the country's higher education, including actively attracting international universities.