With the beginning of second semester 2021, a variety of events were held for international students studying at Ajou University.
The School's International Exchange and Cooperation Office held an online orientation via ZOOM on August 27, which was attended by some 170 students, including exchange students in undergraduate and graduate programs, studying this semester and Global Supporter students.
The program began with welcoming remarks by Ajou President Park Hyung-ju and was followed by an introduction of the School, information on university and Korean life, education to prevent sexual violence, and exchanges with Global Supporter students. It was an opportunity for students to build networks and acquire information on school life.
In addition, colleges and graduate schools also held orientation events.
The College of Humanities hosted a meeting for international students in the College of Humanities on September 14 to mark the beginning of the semester. Attended by some 60 people, including faculty and international students, information was provided on support for international students. The College of Humanities will operate an open-chat community for international students comprised of international and Korean teaching assistants (TAs) and assign international faculty as advisors for international students.
Furthermore, the College of Humanities installed a Commission to Support International Students in the College of Humanities (Prof. Kim Yong-hyeon of French Language and Literature, Chairman) to review the curricula for international students, organize classes dedicated to international students, and plan and operate a variety of academic support programs.
The orientation for first-year students in the Graduate School of International Studies was held online on September 17, with first-year students joining 56 recipients of KOICA and other state scholarships. The event offered an introduction to the Graduate School as well as information on adjusting to life in Korea.
There are some 590 students from 38 countries studying at Ajou University this semester.
The School offers a variety of programs for international students, such as A.G.A. (Ajou Global Ambassador), NUBI Ajou, and Major Helper[KHTC1]. Students can take advantage of features such as mentoring, cultural experiences, and field trips, and engage in international cultural exchange activities.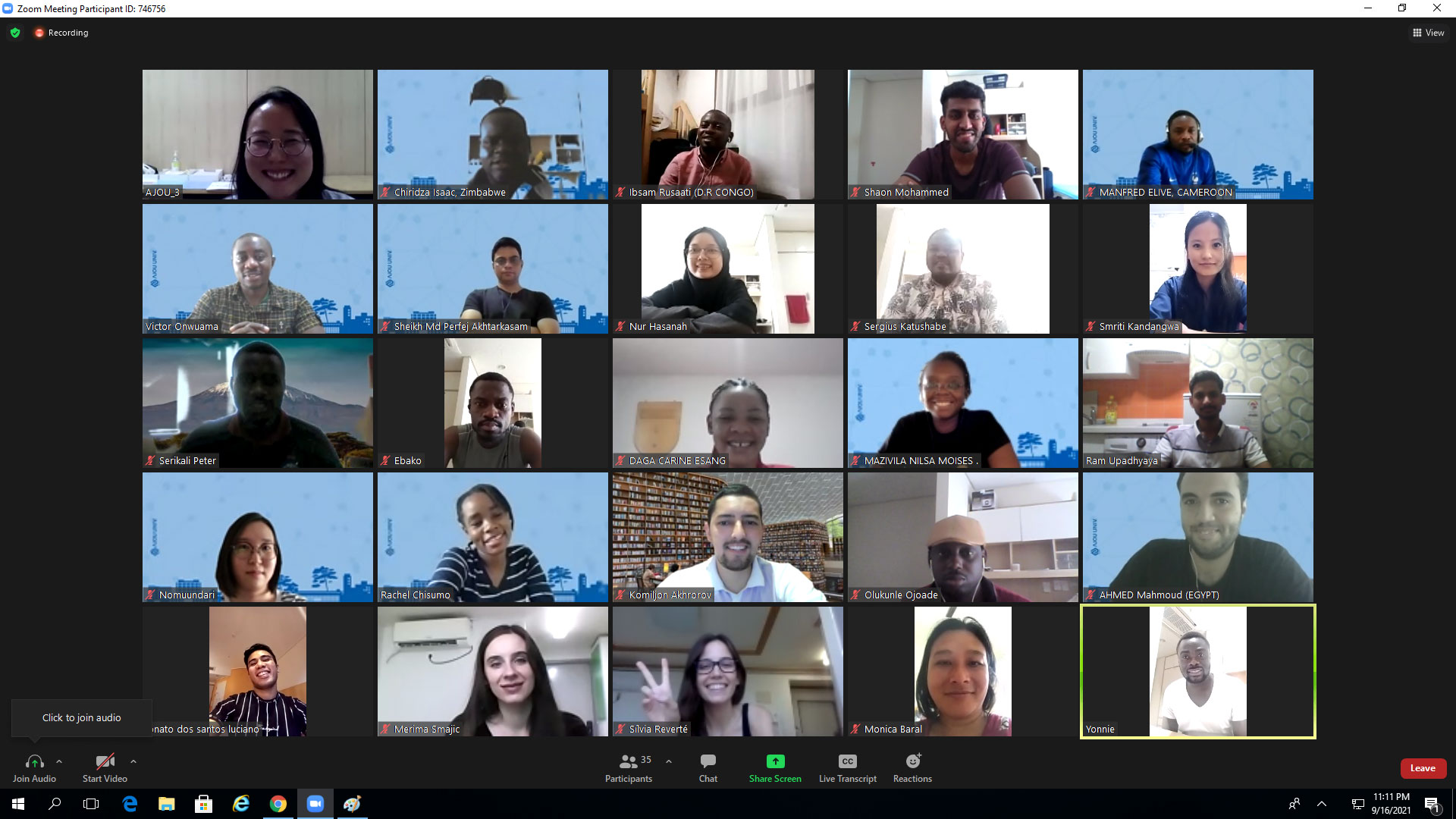 *Photos:
Students making the letter 'A' in 'Ajou University' during orientation (upper photo)
Students attending orientation at the Graduate School of International Studies (lower photo)