Ajou University was designated for participation in the Ministry of Science and ICT's Korea Initiative for Fostering University of Research & Innovation (KIURI) Project.
The KIURI Project was initiated in 2020 to make researchers with PhDs in science and engineering independent and promote their entry into industry.
The three-year project will run from May 2021 to October 2024 with a grant of KRW 1.5 billion per year. Post-doc researchers taking part in the project will receive research grants of around KRW 100 million per year, including labor costs, for up to three years.
Accordingly, the school established the AI-Super Convergence KIURI Translational Research Group to Combat Disease (led by Kim Byung-gon, Professor of Brain Science and Neurology) to produce the human resources needed in basic biomedical science, translational research between clinical medicine fields, development of AI-based new drugs, and new bio materials to manage bodily functions.
It will also build a cooperative network with 21 bio firms located in Southern Gyeonggi Province, including Huons, OliPass, Plarit, and Frombio, to develop technology needed by corporations and provide advice and dispatch researchers to offer practical support to companies seeking to increase their development capacities.
The school will recruit 12 post-doc researchers in different majors from colleges of medicine, engineering, pharmacy, and natural sciences by the end of August 2021. It will develop programs for the newly recruited researchers and match them with faculty mentors and participating businesses in related fields to engage in industry-academia convergence research.
Four university research groups have been assigned to the KIURI Project, including Seoul National University (bio-health), Sungkyunkwan University (energy and environment), Yonsei University (future car materials and parts), and Pohang University of Science and Technology (diagnostics and therapeutics), and 68 post-doc researchers have been carrying out research since 2020. This year, Ajou University and Inha University were designated, with each adding 12 new researchers. A total of 92 post-doc researchers will develop into leading personnel in industrial innovation.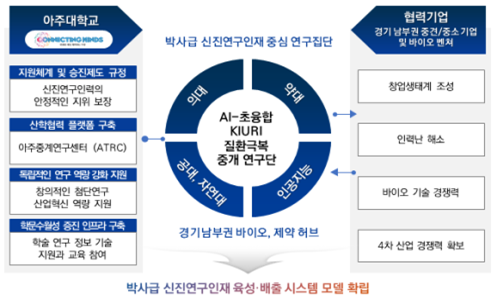 Ajou University

Research group focused on

new post-doc research personnel

Partners:

Middle market businesses/

SMEs and bio ventures

located in southern Gyeonggi Province

Regulations on support system and promotions:

Guarantees stable position for new researchers

AI-super convergence KIURI Translational Research Group to Combat Disease




Create startup ecosystem

Build industry-academia cooperation platform

: Ajou Translational Research Center (ATRC)

School of Medicine

Address lack of human resources

Support strengthening of independent research capacity

: Support capacity for industrial innovation in creative cutting-edge research

College of Pharmacy

Develop competitiveness in bio technology

Build infrastructure to enhance academic excellence

: Support information and technology for academic research and education

College of Engineering, College of Natural Sciences

Acquire competitiveness in Industry 4.0




Artificial Intelligence (AI)







Bio- and Pharma-hubs in southern Gyeonggi Province