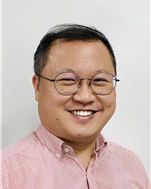 Professor Lee Jae-hyun of Ajou University has developed a new graphene exfoliation technique for graphite, a next-generation electron material.
A joint research team involving professor Lee Jae-hyun (Department of Materials Science and Engineering, photo), Son Seok-kyun of Mokpo National University, and Cho Sung-ho, director of Samsung Display, announced that the team had developed a new technique of layer-engineered large-area exfoliation of graphene. The study was published in Science Advances on October 28th and titled, "Layer-engineered large-area exfoliation of graphene". PhD student Moon ji-Yoon and Doctor Kim Min-soo from the University of Manchester participated as lead authors.
Graphene, a transparent material with rubber-like flexibility, has received a lot of attention as a "dream material" for its outstanding electrical conductivity. These characteristics make graphene perfect for rollable TVs and smartphone screens. Graphene is a compound integration of carbon atoms that form a beehive shape. This monolayer material is so thin that 100,000 layers are equal to the diameter of a human hair.
The conventional method of obtaining graphene sheets from graphite flakes required workers to repeatedly peel off layers of graphite crystals using cellophane tape. This was immensely dependent on worker skill and made it almost impossible to control monolayer graphene area, number of layers and yield.
Professor Lee's team succeeded in controlling, at the atom level, the crack propagation, especially size and direction, produced when peeling off layers using cellophane tape and obtaining the desired area and number of layers. According to Lee's new method, a specific metal film is attached to graphite to selectively, rather than randomly, control the depth and direction of cracks.
The research team's finding enables production of layer-controlled graphene: from mm2-monolayer to double layer and up to 40 layers. The average area of monolayer graphene exfoliated using the new method is up to approximately 4200 times that of monolayer graphene exfoliated by the standard method. In addition, the density per unit area of monolayer graphene increased by a maximum of 6000 times, which enables higher yield.
The recent study is expected to be an alternative method for preparing graphene, as obtaining fine quality exfoliated graphene is essential for commercialization. Research was sponsored by a grant from the Korean Ministry of Science and ICT and the National Research Foundation of Korea as part of their Basic Science and Engineering Lab Program and Beginning Researcher Program.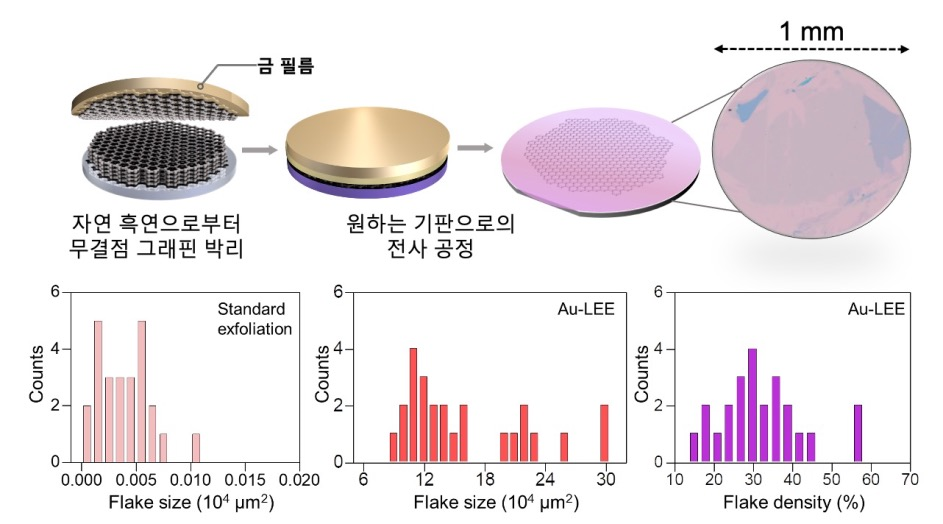 | | |
| --- | --- |
| 금필름 | Gold Film |
| 자연 흑연으로부터 무결점 그래핀 박리 | Exfoliation of top graphene from bulk crystal |
| 원하는 기판으로의 전사 공정 | Transfer to target substrate |
(Top) The exfoliation process of selective monolayer graphene from natural graphite flakes through attachment of gold film.
(Bottom) Graphs comparing the size and density of monolayer graphene exfoliated using the conventional method and using the new method with gold film. The average area of monolayer graphene obtained using gold film is up to 4200 times the standard exfoliation method and up to 6000 times the density.