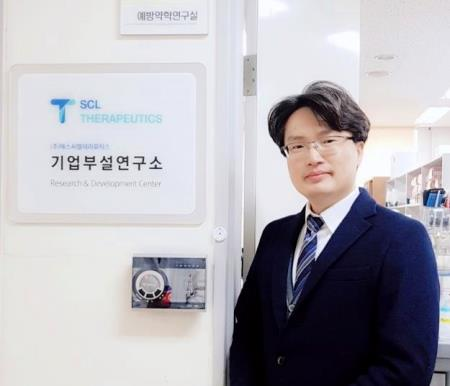 A team led by Ajou University Professor Jeon Sang-min has found that a specific gene formerly considered helpful in prevention and treatment of cancer, in fact, stimulates its development and progression.
Professor Jeon Sang-min (College of Pharmacy, photo) discovered that, contrary to traditional understanding, Nuclear factor E2-related factor 2 (NRF2) is a gene that stimulates cancer development and is also related to poor clinical outcomes, not at all a tumor suppressor gene. His study was published in Clinical Cancer Research on October 19th and entitled, "NRF2 activation promotes aggressive lung cancer and associates with poor clinical outcomes".


Professor Jeon Sang-min, PhD student Choi Eun-ji, US company Genentech, and a research team from Johns Hopkins Medical Institutions participated in the recent study, which was sponsored with a grant from the Korea National R&D Program for Cancer Control (Ministry of Health and Welfare) and the Basic Science Research Program (Individual Basic Science & Engineering Research Program) under the Ministry of Science, ICT and Future Planning.
NRF2 has long been considered helpful in preventing and treating cancer as it was believed to reduce reactive oxygen species (ROS) once it is processed into a transcription factor that activates anti-oxidation pathways. However, several recent findings have suggested that NRF2 may actually contribute to tumor development, because in many cases of cancer, including cancer of the lung, NRF2 was activated.
Another study also found that, in lung cancer cases, NRF2 activation occurred along with the mutation of STK11/LKB1, which are other tumor suppressor genes. Accordingly, the joint research team conducted experiments based on a genetically modified lung cancer mouse model (Kras/Keap1/Stk11-KO) and analyzed the results of the latest large-scale lung cancer clinical trials (OAK, IMpower131).
The research team identified that, in the genetically modified mouse model, the activation of NRF2 stimulated lung cancer development and lowered survival rates. The team also found that the STK11 gene mutation increased ROS and stimulated the progression of lung cancer development. When STK11 mutation and NRF1 activation were both taking place, they suppressed ROS, further promoted lung cancer development and significantly lowered survival rates. The research team discovered that the reason NRF2 activation and STK11 mutation happen simultaneously in lung cancer cases is because NRF2 activation reduces oxidative stress incurred by STK11 mutation leading to cancer cell survival and growth.
In conclusion, the study produced meaningful findings proving that NRF2 is a tumor oncogene, not a tumor suppressor gene. The team also analyzed recent clinical trials and found that lung cancer patients with active NRFs were highly likely to have poorer chemotherapy and immunotherapy outcomes than those who didn't have active NRFs, and had significantly lower survival rates.
Professor Jeon Sang-min stated "The study suggests a paradigm shift in the role of NRF2 in cancer. […] Many attempts have been made to develop an NRF2 stimulant for cancer prevention and treatment. However, our research has set the record straight and contributed to increasing interest on the development of an NRF2 inhibitor."
Professor Jeon's research team is continuing efforts to be the first in developing such an NRF2 inhibitor drug. Professor Jeon participated in joint creation of SCL Therapeutics, a bio start-up, for clinical development of the self-discovered NRF2 inhibitor candidate. Currently, the lab is conducting pre-clinical trials.