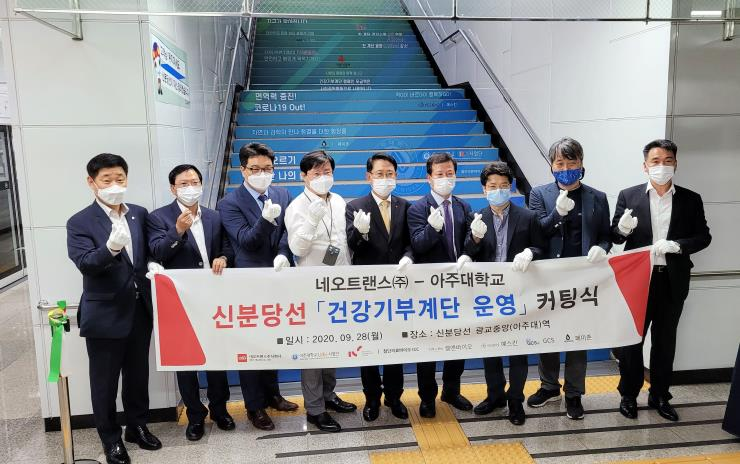 Ajou University's Bio & Healthcare Industrial Cooperation Center (ICC), one of Ajou's LINC project groups, completed installation of and held a tape cutting ceremony for 'Health Donation Stairs' at Gwanggyo Jungang (Ajou University) Station on the Sinbundang Line.
The ceremony, held on September 28th at the Gwanggyo Jungang (Ajou University) Station of the Sinbundang Line, enjoyed the attendance of many distinguished guests such as Oh Young-tae, vice president for Industry-Academia Cooperation, Kim Su-dong, head director of Bio & Healthcare ICC and other faculty, and the CEOs of ICC partners: Cell & Bio CEO Lee Yong-woon and Yeskin CEO Ryu Hyungjun. Oh Byung-sam, CEO of Neo Trans, the company running the Sinbundang Line, also joined.
The Health Donation Stairs project was first introduced as a social contribution effort and realized through the sponsorship of companies and public participation. Financial contributions were made by participating companies and funds could be donated by people walking up the stairs from the subway. All funds collected through the Health Donation Stairs are given back to society.
Many partner companies to the Bio & Healthcare ICC and the LINC+ project group engaged in the process and contributed funds needed to install the Gwanggyo Jungang (Ajou University) Station's Health Donation Stairs. The goal of this project is to promote local health by attracting people to walk up the stairs (instead of taking the escalator), promote the Bio & Healthcare ICC partner companies, and using donations to purchase winter kits for members of marginalized groups.
A tripartite MOU was signed between the Bio & Healthcare ICC, one of Ajou University's LINC+ project groups, Neo Trans and the Community Chest of Korea to kick things off. The actual stairs were first installed in August this year at Exit No.1 at Pangyo Station; the project was further expanded to install another Health Donation Stairs at Gwanggyo Jungang (Ajou University) Station in September.
Oh Young-tae, Vice President for Industry-Academia Cooperation stated, "The campaign is all the more meaningful as it goes beyond simple industry-academia cooperation," adding, "It is a best practice possible through strong cooperation between the university and its ICC partners with the aim carrying out the social responsibilities of the university and companies and giving back to local communities."
Oh Byung-sam, CEO of Neo Trans, which operates the Sinbundang Line, explained, "Donations will be used to help the underprivileged in our community."
The ICCs are clusters, created by Ajou University, to foster collaboration with local businesses and industries and nurture talented people. There are four areas of specialization: bio-healthcare, smart mobility, new and renewable energy, and AI and big data. These areas were selected through analytics on Ajou's core competence and local industry in accordance with the Ajou Industry-Academia Cooperation Development Plan.
The LINC+ project group is actively implementing various industry-academia cooperation projects such as joint technology development, technology transfer and commercialization, on-the-job trainings Capstone Design programs and consultative body activities. It is currently engaged in creating "Ajou Valley," an innovative industry-academia ecosystem.