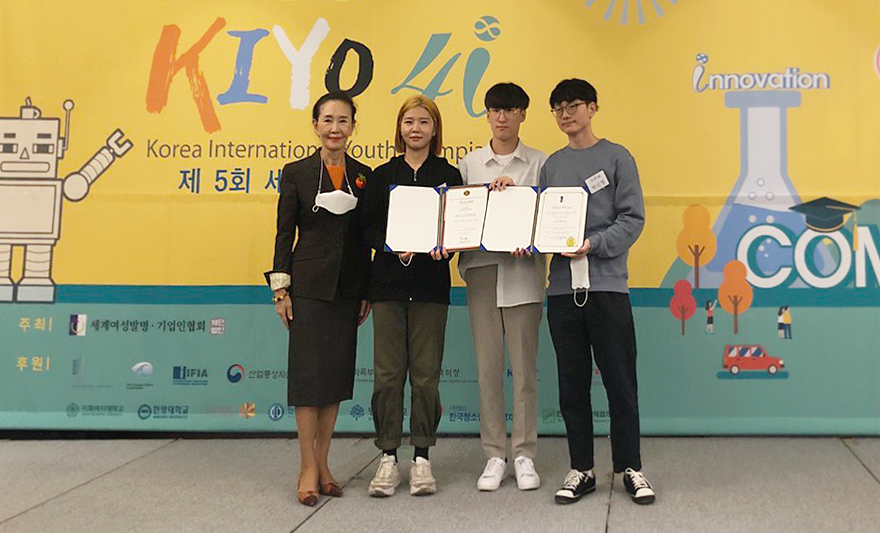 The students of Eureka, an extracurricular club of Ajou University, received many awards at the "Best of Best Invention" of the 5th Korean International Youth Olympiad (KIYO). Eureka is an invention club made up of students who are interested in inventing, manufacturing, and patents.
The Best of Best Invention features upgraded versions of inventions that have already received awards in international competitions or inventions that are based on original ideas. To participate, one must have previously received one or more awards from an invention competition either in Korea or overseas.
This year's KIYO was participated in by elementary, middle, and high-school students from 18 countries and 500 university students. It was held remotely to help prevent the spread of COVID-19. Applications and inventions were submitted in September, with the screening results announced on October 12.
Ajou University's team received seven awards: three gold, two silver, and two special awards. The three gold award-winning inventions were: 1) a braking device for a stroller that takes into consideration differences in height between the front and rear wheels, 2) a syphon device that can control the quantity of liquid that passes through it based on a disk and coiled hose, and 3) a KMARK-1 (auto-injector) that can be stored safely (without risk of accident) through its protruding end and a groove and inject multiple agents sequentially.
Park Jin-hyung, Eureka's president, said, "Despite the fact that it was not easy to work together because of the continued threat of COVID-19, everyone worked very hard. Thanks to the support from Ajou University, we were fortunate enough to receive several awards. Our goal is to use our ideas to breath new energy and life into Korean society."
Eureka received the funding necessary to participate in KIYO through the LINC+ Center's support program for outside startup contests. Starting this year, the center also provides funding to support undergraduates in preparing samples and for participation fees for outside startup contests. It also has a startup advisory group that is made up of experts from a wide range of areas who help students who wish to start their own business.