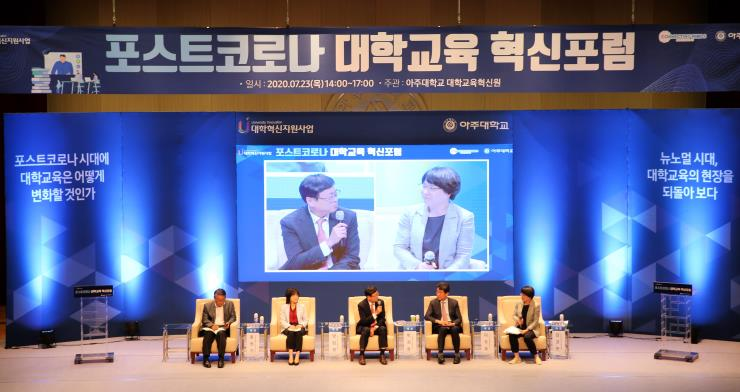 Ajou University organized the Post-COVID-19 University Education Innovation Forum and supported debates on how university education should change in the post-pandemic future.
Organized by the Ajou University Center for University Education Innovation, the forum was held online, starting at 2 p.m. on July 23 and broadcast via YouTube livestream.
Assistant Dean Paul Kim of the Stanford Graduate School of Education was featured as the first keynote speaker, sharing his ideas on post-pandemic education innovation. Kim spoke about how Stanford University has been responding to COVID-19, and what it could imply for the future direction and strategy of higher education.
Forecasting that the future of education will be more "coaching" than "teaching," Kim stressed the need to develop a curriculum that takes into account the differences in interests and capabilities among students and seeks to maximize students' potential."
Kim also discussed the Stanford Mobile Inquiry-Based Learning Environment (SMILE), emphasizing that genuine study and academic exploration involves raising bold questions and relentlessly debating them. He argued that future leaders enroll in university not for the degrees but out of empathy and devotion, with a willingness to learn and experience so that they can change the world.
In order for this kind of education to be possible, Kim emphasized, the culture of educational institutions should first be changed in innovative ways. He stressed the need for "culture engineering" based on strong leadership and organization, citing Google as an example of successful culture engineering.
Lee Ju-ho, professor at the KDI School of Public Policy and Management and former Minister of Education, shared his thoughts on AI revolution in education and the destructive innovation of universities as the next keynote speaker. Professor Lee predicted the rise of education customized to the needs of individual students.
Projecting that personalized learning will be made possible by the rise of "edutech," led by artificial intelligence (AI), Professor Lee emphasized that teachers would also become learning planners.
A series of presentations and panel discussions followed, featuring Park Hee-deung, head of the Budget and Planning Office and the University Innovation Support Program Group at Korea University; Yang Im-jeong, head of the Education Innovation Office at Pusan National University[KHTC1]; Hong Won-ki, head of the Innovation Center for Education at POSTECH; and Kang Kyung-ran, head of the Kang Kyung-ran, head of the Center for University Education Innovation at Ajou University.
The speakers shared other universities' examples of dealing with COVID-19 and its impact on education, such as: Korea University's NeMo Class for online and offline lectures; Pusan National University's PLATO, an online platform for knowledge-sharing; POSTECH's virtual- and augmented-reality learning environment and real-time video-conferencing of lectures; and Ajou University's "New Normal" education model and adaptive learning.
In his greeting to the participants, President Park Hyung-ju of Ajou University explained that the forum was organized to share the "trial and error" of this year's spring semester and prompt debates on the proper future direction of higher education in Korea. He expressed his wished that the forum would occasion reaffirmation of the role and utility of higher education and a gathering of likeminded people who share the same macro-level concerns.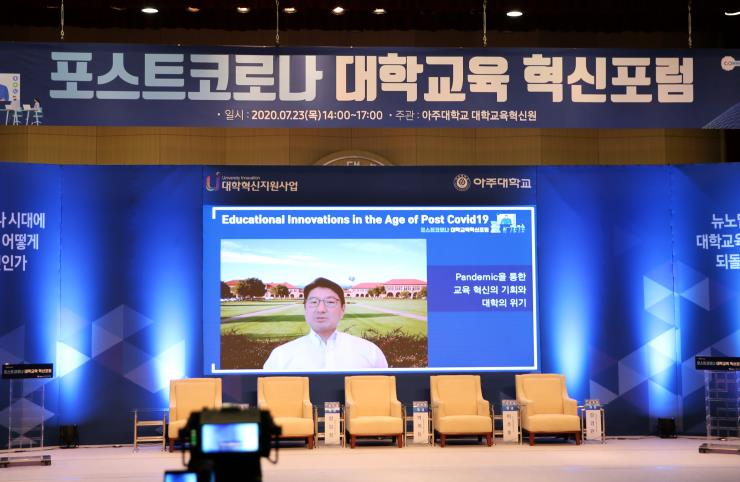 Paul Kim (Assistant Dean, Stanford Graduate School of Education)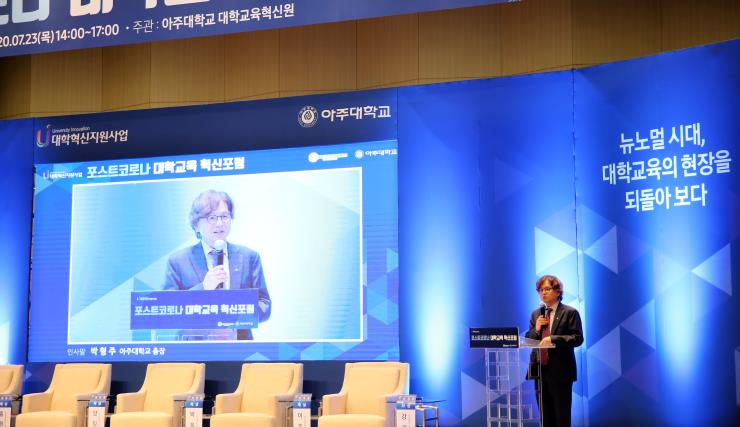 Park Hyung-ju (President, Ajou University)