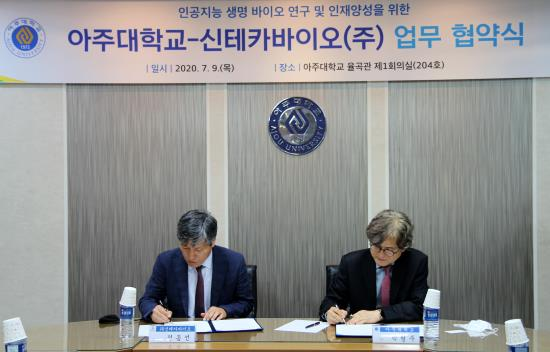 Ajou University has entered into a new partnership with Syntekabio Inc., an up-and-coming pharmaceutical company specializing in artificial intelligence (AI) and genomic big data.
The ceremony for signing the partnership agreement was held in the Yulgok Hall on July 9 and attended by President Park Hyung-ju of Ajou University, CEO Jeong Jong-seon of Syntekabio, and other members of both organizations. The two parties agreed to apply AI to biotechnology to contribute to the further progress of the field while also working closely together to train and develop personnel specialized in biotechnology-AI convergence.
In particular, the Department of Artificial Intelligence and Data Science at Ajou's General Graduate School and the Ajou Center of Mathematical Statistics for Industries (ACMSI) [KHTC1]will lead the efforts to be made under the partnership, including: (1) joint development and management of an AI convergence-tailored curriculum catering to the needs of the biotech industry; (2) conducting of joint research on subjects of biotechnology-AI convergence; (3) organization of joint use of facilities and equipment; (4) provision of short- and long-term internship opportunities for graduate students; (5) granting of preference to Syntekabio in the hiring of graduates; and (6) organization of various projects for collaboration (including marketization and consulting) and exchange.
Syntekabio had its initial public offering on KOSDAQ in December. The pharmaceutical company applies its advanced AI solution, DeepMatcher™, to a number of its own and collaborative pharmaceutical R&D programs. The company owns a variety of other AI-based new drug development solutions and provides genome-based precision medical services for hospitals.
Ajou President Park commented, "Ajou is actively leading research on data science, and we expect this partnership to present our students with new opportunities to develop their capabilities."
Syntekabio CEO Jeong replied, "I expect mutually beneficial results through this partnership with Ajou University, which is a major center of active AI and related research in Korea today."