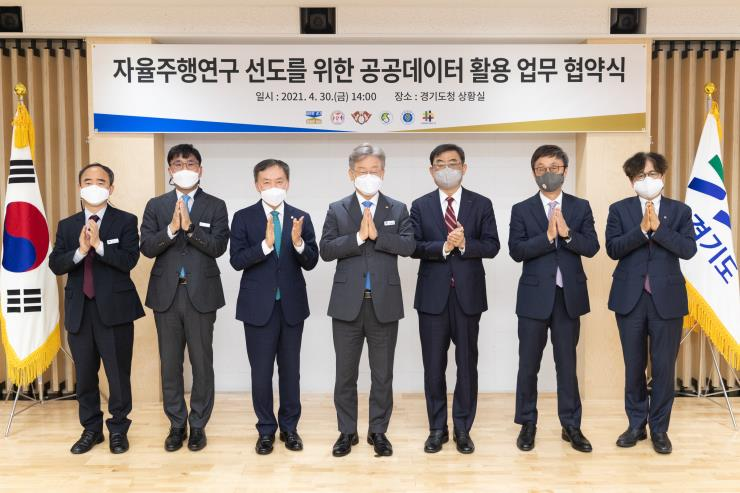 Ajou University concluded an agreement with the Gyeonggi Provincial Office to cooperate in the field of autonomous driving. The agreement was made between Ajou University, Pohang University of Science and Technology (POSTECH), Kyung Hee University, Sungkyunkwan University, and the Advanced Institute of Convenience Technology (AICT).
A signing ceremony was held at the Gyeonggi-do Office on April 30, 2021 and attended by Gyeonggi-do Governor Lee Jae-myung, Ajou University President Park Hyung-ju, POSTECH President Kim Moo-hwan, Kyung Hee University President Hahn Kyun-tae, Sungkyunkwan University President Shin Dong-ryeol, and AICT President Joo Young-chang. Director of Ajou University's Autonomous Driving Mobility Center Song Bong-seob, who is also Professor of Mechanical Engineering at Ajou University, was also present.
The Gyeonggi Provincial Office will provide big data produced in its Autonomous Driving Center to universities that are parties to the agreement. More specifically, it will provide autonomous driving testbeds, big data, and facilities for research in autonomous driving, including PCs and software, and build a Gyeonggi-University Big Data System to share research outcomes.
Universities will run courses utilizing autonomous driving big data, and in collaboration with Gyeonggi Provincial Office, host a contest in autonomous driving big data and AI. They are also planning to set up special courses in big data and courses utilizing autonomous driving big data for executives and employees of Pangyo 2nd Techno Valley.
At the ceremony, Ajou University President Park commented, "This agreement is particularly significant as the autonomous driving public data to be provided by the Gyeonggi-do Provincial Office includes not only vehicle-related data but also control data." He continued, "We hope the trilateral cooperation between the Gyeonggi-do Provincial Office, universities, and AICT and the relocation of Gyeonggido Office to Gwanggyo will serve as an opportunity to realize the next generation of Zero Shuttle: Zero Shuttle 2.0."
He also added, "Ajou University is conducting research to connect transport, ITS (Intelligent Transport Systems), and autonomous driving by providing support to large-scale research groups and promoting collaboration among researchers," and "The school will contribute significantly to joint research in the field of safety in autonomous driving."
The Gyeonggido Provincial Office founded the Gyeonggi Autonomous Driving Center with AICT in 2019 to construct an ecosystem for autonomous driving. The Center continues to support demonstrations by autonomous-related companies and research institutes. It incubates new autonomous driving businesses through its Business Center and runs an autonomous driving shuttle known as "Zero Shuttle."