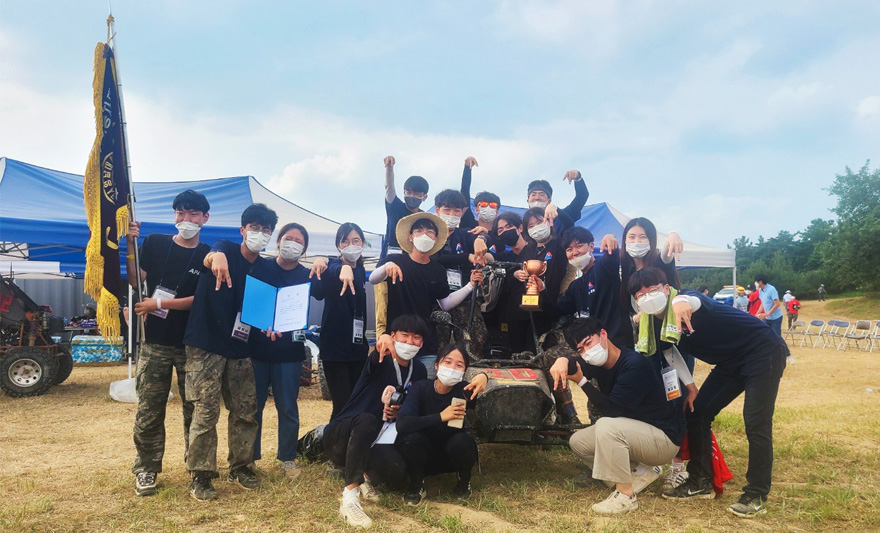 AFA, Ajou University Club from the Department of Mechanical Engineering, recently won overall first place at 2020 Baja Society of Automotive Engineers KOREA at Yeungnam University.
The Baja SAE KOREA which was held from August 19 through 22, was a competition that features cars designed by university students. The Baja SAE Korea began in 1996 and celebrated its 25th anniversary in 2020.
15 teams from 13 universities across the country participated in the competition. The off-road vehicle produced by each team was assessed in four categories: static test, brake test, dynamic force check, and durability test, and the team with the highest total scores from each category will win the championship.
Ajou University A-FA team (advisory professor: Jeon Yong-ho) has won the first place with the top scores in all categories. The defining feature of A-FA's car was the rear semi-trailing arm optimized for self-made vehicle. The fact that students can pick up their own gearboxes by deriving the desired gear ratio with a simulator for calculating longitudinal deceleration also contributed to their excellent performance.
"I'm very happy to receive this award, 19 years after winning the last championship in 2001," said Kim Hyo-chan, the leader of the A-FA team. "I think we were able to make it because the team members did their best despite the poor working condition due to COVID-19."
The team A-FA stands for "Ajou Future Automobile." Founded in 1993, the A-FA has been participating in all kinds of competitions with various vehicles, including on- and off-road vehicles entirely designed and manufactured by students themselves. In 2019, A-FA won the first prize in the off-road vehicle category in "2019 KSAE Self-made Car Competition"